Alexie has completed a new film. It is called FOR ALL EYES ALWAYS and it is in post-production. The film also stars Sean Astin and Lynn Whitfield. I have one still and an article for you. Read on.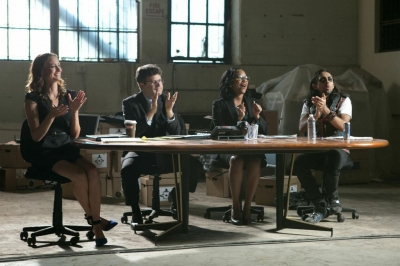 CURE FOR PAIN Director Adds Sean Astin And Lynn Whitfield To Indie Spy Comedy FOR ALL EYES ALWAYS

It was back in 2011 that we first came across the work of director Rob Bralver. The occasion at the time was his Cure For Pain: The Mark Sandman Story, an intimate look at the life of the former Morphine frontman that I like rather a lot and ended up programming as part of the Canadian Music Week film program in that year where it played to a very appreciative audience. Bralver has a pair of equally well received docs under his belt since then and is now launching production on his debut narrative feature, For All Eyes Always.

Indie spy satire 'For All Eyes Always' has added Sean Astin (Lord of the Rings, The Strain) and Lynn Whitfield (HBO's The Josephine Baker Story) to an ensemble cast. Film is the narrative directorial debut of doc filmmaker Rob Gordon Bralver (Our Vinyl Weighs A Ton, Cure for Pain: The Mark Sandman Story, editor of Gore Vidal: The United States of Amnesia).

'For All Eyes Always' imagines the CIA's efforts to win back the confidence of the American public by creating a reality TV show that purports to show with total transparency the covert operations that occur around the globe on behalf of the United States.

Said Bralver, "It is now a transparent world, and there are no such thing as secrets. How will the intelligence community adjust to this seismic change? Perhaps by embracing it like everyone else has had to do – using reality TV and social media to promote their goals."

Ensemble cast also includes Joe Hursley (Fast & Furious), vine star Greg Davis Jr., Ganna Bogdan, Saïd Taghmaoui (American Hustle), Alexie Gilmore (Labor Day), Chasty Ballesteros (The Newsroom), Joseph Gatt (Game of Thrones), and producer Adi Shankar (Lone Survivor) playing a fictional version of himself.

Written and directed by Bralver, the film is produced by Amy Child via their shingle The Koaffalo Motion Picture Company.

Film is currently in production in Los Angeles.