I have a really good interview with WILLOW CREEK director Bobcat Goldwait. Nothing really about Alexie except for the mention she's in the film. Enjoy.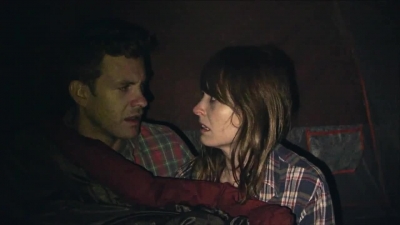 How to Scare People

Willow Creek: Bobcat Goldthwait Has a Bigfoot for You

BIGFOOT ARE GIANT APE-MEN who live at the fringes of our so-called civilization, and when one eats you, no one will believe it. So learn Kelly (Alexie Gilmore) and Jim (Bryce Johnson) in Willow Creek when they visit the notorious "Patterson-Gimlin site," where, in 1967, two men claimed to have filmed Bigfoot.

Willow Creek is a mostly improvised found-footage horror movie that was shot on location—combined with the talents of Gilmore and Johnson and director Bobcat Goldthwait, that sparseness lends the film a surprising level of intensity. Goldthwait's mostly known for comedies, but his past directorial work (like World's Greatest Dad and God Bless America, along with episodes of Chappelle's Show and Maron) boasts a keen eye for discomfort. He uses it to excellent effect in Willow Creek.

MERCURY: How did the project get started?
BOBCAT GOLDTHWAIT: Well, I knew I wanted to do a Bigfoot movie, and then when I actually went to Willow Creek, I changed my ideas. Originally I was going to do a comedy, but then it just seemed to lend itself to doing a suspense movie.

I didn't want to do a movie that was making fun of people who believed in Bigfoot. I consider myself a weirdo and an outcast, so I'm not about to pick on other people who are perceived that way. The goal was to try to make these people believable and characters you empathize with before terrible things happen to them. I think a lot of [horror directors] almost seem to resent the characters, and I wanted you to care about them.


How remote were the locations? Were you out in the middle of nowhere?
Oh my god, we actually went to the Patterson-Gimlin site, so we were. The town [Willow Creek] is 11 hours from LA, and then when you get to Bluff Creek, it's about a two-and-a-half-hour drive down a 17-mile dirt road. So there's nothing around. We saw mountain lions when we were filming. There was no craft service or hotel or anything like that.

I thought, "Why are we filming this out in the middle of the woods? We should just do this in a hotel parking lot." But I knew that in order to get the audio right that we'd have to do it out [there]. A lot of the sounds you hear in the movie were recorded live. Subconsciously, you're not even aware of it, but the absence of planes or faintly heard traffic really added to the suspense.

There were only about 70 edits in the whole movie. There's always someone turning the camera on or turning it off. I always have a problem with edited found-footage movies, because who "found" this? Just a creep who said "Hey, that's sad your family died, but if we re-edit it there's a tremendous picture here."

Coming from a comedy background, what did you learn shooting a horror film?
That making people laugh and scaring them are really similar. There's the misdirect, you know? You laugh at something because it's not happening the way you'd perceive it would happen. Your mind tries to jump ahead. Turns out scaring people is the same thing. You set 'em up and then you make a twist.